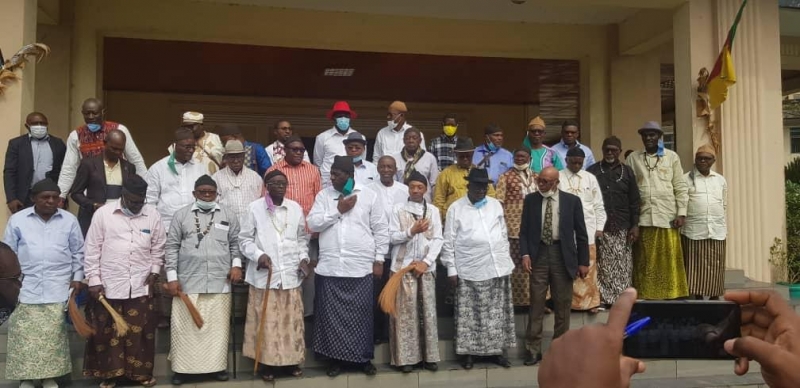 Roger Mbassa Ndine and the Sawa Chiefs Frederic Nonos
During their last meeting, the Association of Customary Chiefs of Sawa Villages in Wouri reviewed the state of their department in the first half of 2022.
The Association of Traditional (customary) Chiefs of the Sawa villages of Wouri published this June 30, 2022 the report of its meeting of May 29, 2022 held at the Chefferie du Village Bonadouma in the canton Njo Njo (Douala). During this meeting, its members analyzed the situation in the Wouri department during the first half of 2022. They are not always happy.
They are indignant at the continual rise in the cost of living, calling on the public authorities to find "appropriate solutions" to the problems that arise. "National and international crises, although real, cannot justify a lack of anticipation and forecasting by governments", they write.
Their Majesties are surprised at the increase in the sale of counterfeit products on the markets. They deplore the toxicity of certain consumer products and affirm that the administrations of the sectors concerned will be held responsible in the event of tragedies if they do not act or become accomplices. On the other hand, the customary Sawa of Wouri are delighted with the social climate "relatively peaceful" in their department.
On the other hand, they denounce what they call "the "sorcery" of declarations of public utility". These are the documents obtained by supposed or real economic operators and their relays in the decision-making spheres who appropriate land in violation of the regulations in force. They cite the case of Dikolo where populations saw their homes destroyed by someone one who claimed to be the owner of the space where they had lived for decades.
Concerning the reclassification of chiefdoms, the Sawa chiefs of Wouri say "surprised that the Cameroonian administration has persisted in violating for more than forty years its own texts on traditional chieftaincy by refusing to create second degree in Wouri ". They invite the opening of the chieftaincy reclassification file.
Reacting to the decision taken on December 21, 2021 by the Minister of Arts and Culture which requires them to pay 50,000 CFA francs to obtain authorization to organize a cultural event, they declare: "This decision is incomprehensible. Unless it aims to kill culture. The organization of cultural events is consubstantial with the chiefdoms. It cannot therefore be subject to financial conditions, even for the benefit of the State. How can we ask the chiefdoms whose vocation is to preserve and promote our knowledge and our heritage assets to pay for it? The traditional (customary) chiefs of Wouri want a freeze on the application of the provisions of this decision with regard to the chiefdoms and the holding of explanatory meetings between the ministry in charge of culture and the traditional chiefdoms ", they suggest.
Author:
Pierre Arnaud NTCHAPDA
@t_b_d

We would like to thank the writer of this write-up for this amazing material

Sawa traditional chiefs angry with administrative and political authorities


Check out our social media accounts and other related pageshttps://nimblespirit.com/related-pages/